In case of fire emergency, please call 911.
CURRENT FIRE RISK LEVEL (May 10, 2022): LOW

Low:  Recreational fires allowed, burn permits allowed, fireworks permits allowed.
Moderate: Recreational fires allowed. Burn permits and fireworks permits reviewed by fire chief. Be aware of weather and other variables affecting burning conditions.
High: Fire Ban will be enacted. No recreational fires or burn permits. No fireworks permitted.
Wha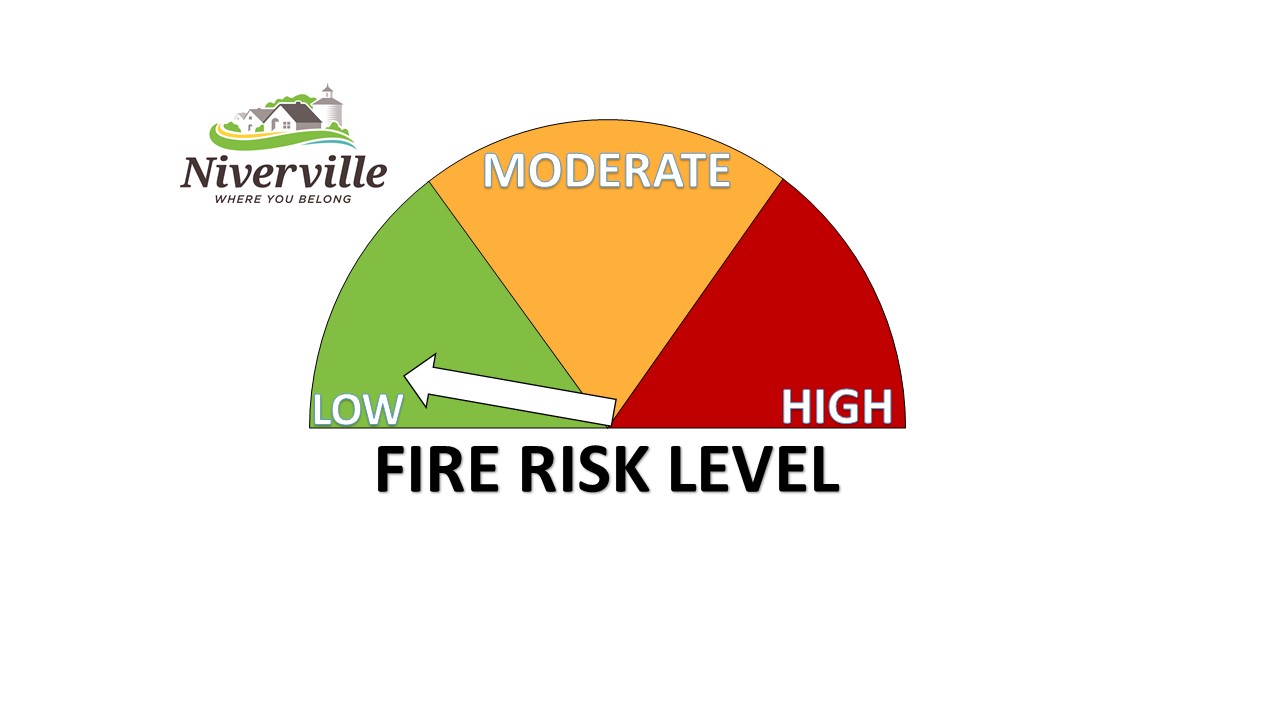 t is an Approved Receptacle? In the Town of Niverville, an approved receptacle means an approved fire pit, outdoor barbecue, outdoor fireplace or warming fire receptacle.
An approved fire pit must
be enclosed on all sides and constructed of masonry, concrete, heavy gauge metal or other non-combustible materials;
be at least 4 inches and no more than 2 feet in height above the surrounding grade, but no more than 24 inches in depth when measured from the top of the pit opening to the bottom of the pit;
have an opening that does not exceed 3 feet in diameter;
be located in the rear yard of a residential property; and
at no time have flames that are more than 2 feet above the top of the pit opening.
A person in charge of a recreational fire must ensure that
the fire is always supervised by a person 18 years of age or older until and unless it is fully extinguished;
the fire is always kept under control;
an adequate supply of water, sand or some other means of controlling and extinguishing the fire is readily accessible;
the fire is not set or maintained in conditions or locations which will or could result in:
(i)        smoke which causes a nuisance or irritation to people on adjacent properties;
(ii)       reduced visibility on any highway or road;
(iii)      a rapid spread of fire through grass or brushed area.
the fire is not set or maintained when the wind exceeds 25 kilometers per hour;
if the fire becomes uncontrollable or spreads beyond its assigned limited, the Niverville Fire Service is alerted by calling 911;
the fire is maintained within an approved receptacle;
the fire is maintained a minimum of 10 feet, as measured from the nearest edge of the fire, from any combustible buildings or structures, combustible fences, trees and overhead wires; and
only clean, dry, unpainted and untreated wood is burned and no grass, leaves, brush or tree prunings are burned in the fire.
For more information on approved receptacles and burning regulations, please visit Bylaw 650-07.
For information on the Burning Ban, please visit Bylaw 796-18.
For information on fireworks regulations, please visit
Bylaw 651-07
.
---
More About Niverville Fire and Emergency Services
Niverville Fire and Emergency Services is a paid on-call service which handles 200+ calls per year. The department has 35 members serving the community. The fire hall is located at 309 Bronstone Drive in Niverville. Niverville Fire and Emergency has 2 fire engines, a water tanker, rescue unit and 2 support response vehicles. They are responsible for providing the following services to the Town of Niverville and surrounding area:
Fire Protection
Medical First Response
Vehicle Extrication
Fire and Life Safety Education
Water Rescue
Fire Inspections
Applications for Fire and Emergency personnel are available at the Town office. Any questions or concerns can be forwarded to the address below:
Email: firechief@whereyoubelong.ca
Fire Chief: Keith Bueckert
Deputy Chiefs: Brad Wasilinchuk and Stan Hiebert
Fire & Emergency Resources:
Carbon Monoxide Safety
Smoke Alarms at Home
Fire Department Application
Fireworks Permit – Low Hazard