Please be advised that Bylaw 801-18, Schedules "A" and "B," have been recently amended as of October 18, 2022. The Schedules were amended to provide more clarity to residents on the Designated Snow Route and Street Parking Bans.
Bylaw 801-18 Schedule "A" – Designated Snow Route
Updates made to Schedule "A" are in addition to all other parking regulations already laid out in this Schedule.
During the period of November 1st, through May 1st annually, a Designated Snow Route will be in effect. This means that all vehicles (including trailers) are not permitted to park on any of the streets identified in the below map between the hours of 6 am to 6 pm, 7 days a week. Vehicles (including trailers) that are parked on the streets identified below may be ticketed and towed at the owner's expense.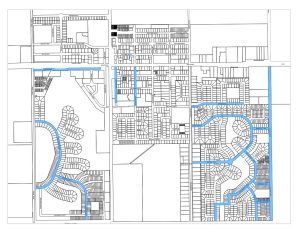 The Designated Snow Routes are as follows:
2nd Avenue South
6th Avenue South (not including gravelled parking lane)
Aberdeen Drive
Back lane behind 41 Main Street
Breckenridge Drive
Cambridge Way
Claremont Drive (south portion as shown)
Drover's Run
Errington Way
Foxdale Way
Hampton Drive
Hawthorne Way (as shown)
Heritage Trail
Sheffield Way
Spruce Drive
Saint Andrews Way
Schedule "B" – Street Parking Ban
As per Section 6.1 of Bylaw 801-18, when a Street Parking Ban has been put into effect, residents must not park on that street between the hours of 6 am to 6 pm on the specified date, to allow for street cleaning to occur. The Town may order a vehicle to be towed away when such a vehicle is parked on the street during a ban, the cost or fees of which will be the responsibility of the registered owner.
Notices indicating when the parking ban will be in effect will be posted on the Town's website www.whereyoubelong.ca and the Town's Facebook page 24 hours in advance of the ban being implemented.
If residents have any questions regarding the changes to the Bylaw or require further clarification, they are encouraged to send an email to feedback@whereyoubelong.ca.