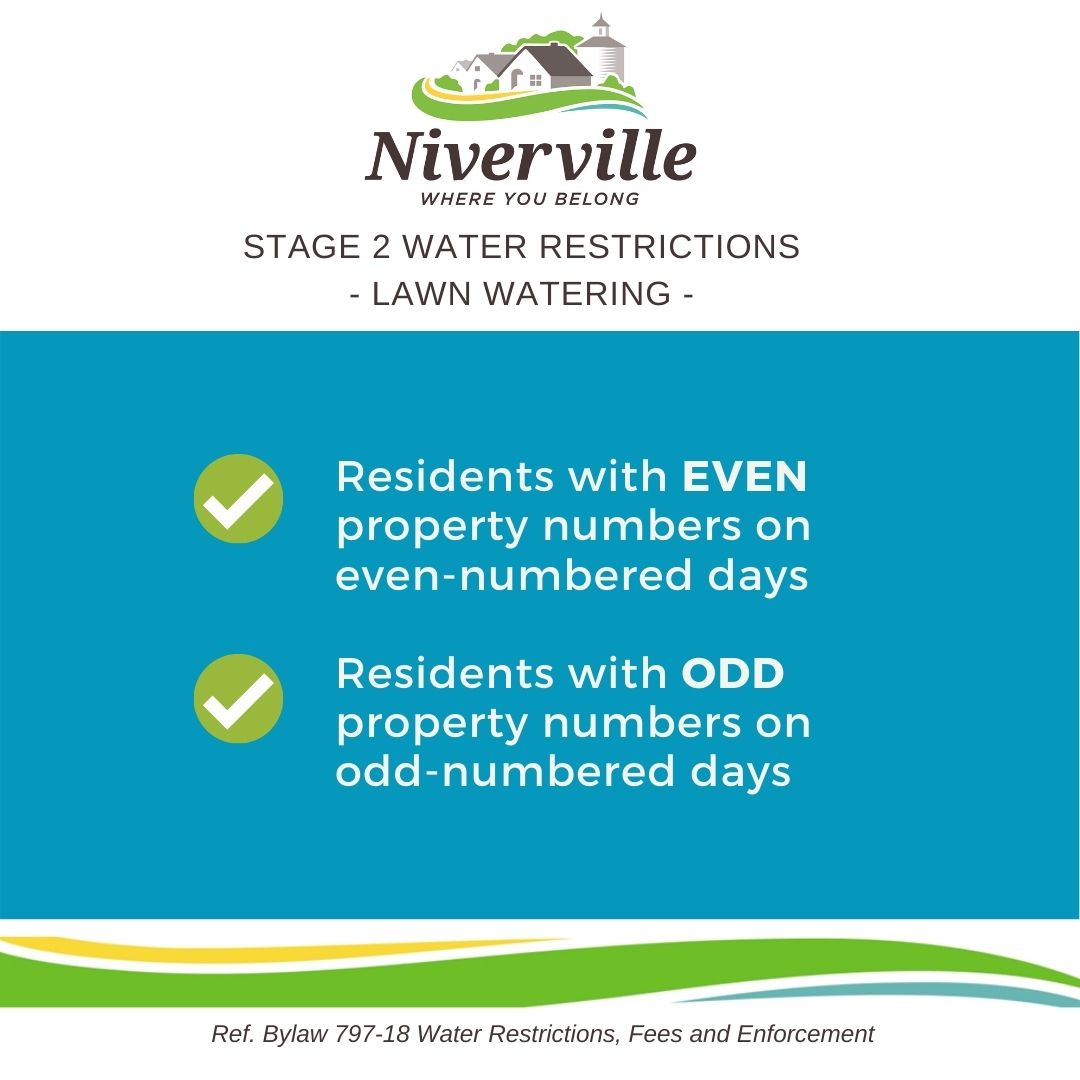 Notice for residents on municipal water system: With the recent increase in temperatures, staff have observed an increase from the normal water usage between 650,000 to 800,000 litres per day, to a concerning usage rate between 1.3 to 1.5 million liters per day. The Town's water system cannot sustain that type of usage over a long period of time. The Town Operations Department strongly urges property owners to adhere to the odds and evens watering schedule to allow Niverville's system to replenish. This is crucial to ensure adequate water levels for common usage and fire fighting protection.
Town staff will continue to monitor water levels closely. Additionally, Bylaw Enforcement will be patrolling to ensure the watering schedule is being followed. Persons not complying with water restrictions will be subject to penalties as enforced by a Town Bylaw Enforcement Officer.
Under Niverville's current Stage 2 Water Use Restrictions, residents on the municipal water system must limit lawn watering to even numbered days for residents having even numbered civic addresses and residents having odd numbered civic addresses to limit watering of lawns to odd numbered days.
Please be advised, if the high usage continues, Stage 3 water restrictions will need to be implemented which means watering of grass would no longer be permitted. However, if residents comply with the odds and evens watering schedule, the water treatment plant should be able to manage the water production schedule and residents should be able to enjoy nice green lawns.
For a complete list of the outdoor watering restrictions, please CLICK HERE to view Bylaw 797-18 Water Restrictions.
For more general information on Bylaws, Policies, and Reports, please CLICK HERE.
Thank you for your co-operation.
Questions? Please email feedback@whereyoulong.ca.